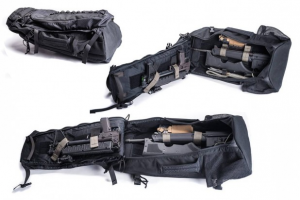 Many of us, myself included, live in an area where we often cross state borders. When such a trip includes your NFA items then certain federal statutes may come into play.
In particular, 18 U.S.C. 922(a)(4) specifies that:
(a) It shall be unlawful …
(4) for any person, other than a licensed importer, licensed manufacturer, licensed dealer, or licensed collector, to transport in interstate or foreign commerce any destructive device, machinegun (as defined in section 5845 of the Internal Revenue Code of 1986), short-barreled shotgun, or short-barreled rifle, except as specifically authorized by the Attorney General consistent with public safety and necessity;
With the exception of suppressors and AOWs (which are notably absent), in order to comply with this provision you will need to apply for, and receive, permission from the ATF to transport your NFA items across state lines prior to doing so.
You do this by submitting, in duplicate, a Form 5320.20, commonly known as a Form 20.
This form, which allows you to list up to 3 items per form, may be submitted for a date range up to 365 days.  Most NFA owners who routinely shoot in another state find it easiest to have approved Form 20s for each of their NFA items for an entire year at a time.
IMPORTANT NOTE:  If your NFA item is owed by your NFA trust then you will put the trust name in Question 1 of the Form 20 rather than your own name.  You then sign it in Question 12 with your own name but add ", as trustee" after your name.  
The ATF approves these forms fairly quickly in the normal course of business and have proven willing to expedite them when the need arises.
So … to summarize … you must have an approved Form 20 before you transport any of your NFA items (excepting suppressors and AOWs) across state lines.  In addition, it remains your responsibility to verify that the particular NFA items you are transporting are legal in the state you are traveling to.