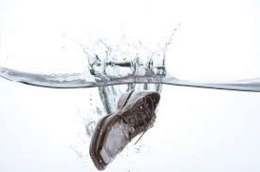 The other shoe has finally dropped …
As many have been predicting since the action date was moved to January last month, yesterday the Attorney General signed a final version of 41P (now known as 41F).
The final rule, which will go into effect 180 days after it has been published in the Federal Register, differs quite a bit from the proposed rule.  Let's look at some of the immediate questions that need to be answered:
When will 41F take effect?
The rule is set to take effect 180 days after it is published in the Federal Register.  The American Suppressor Association is reporting that this will be 'on or near' July 2nd, 2016 which implies that the final rule was published in the Federal Register yesterday (January 4, 2016).
As of this morning, browsing the Federal Register for yesterday's date fails to yield a result for 41F but interestingly enough, when you search for the Regulation Identifier Number (RIN) of the rule (1140-AA43) you get the following: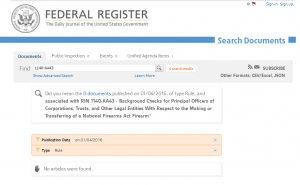 If I didn't know better, I would think that they are playing fast and loose with the publication requirements of the Administrative Procedure Act.  But nonetheless, we are almost certainly looking at the first week of July for 41F to take effect and you should plan accordingly.
Will it definitely take effect?
This is another popular question.  There were any number of 'irregularities' that various attorneys and advocacy groups pointed out when 41P was first published.  Based upon these potential violations of various federal laws governing administrative rulemaking, a number of legal challenges have been suggested.
The most prevalent of these that I am aware of is being planned by the Firearms Industry Consulting Group.  I highly recommend supporting their efforts in this regard.
However, I would advise my clients to proceed under the assumption that it WILL take effect the first week of July and plan accordingly.
Will trusts now be subject to the CLEO signoff requirement?
This was one of the areas where 41F diverges from what was proposed in 41P.  Your comments on 41P made a huge difference!
Trusts, corporations, and other non-individual applicants will now be subject to the same CLEO requirements as individual applicants … however … the requirements have been changed from requiring CLEO sign-off to only requiring CLEO notification.
What is the difference?  It means that your CLEO can be as anti-gun as they wish but they can no longer deny your Form 1 or Form 4 because they do not have to sign-off on it.  You will simply notify them (on a form to be prescribed by the ATF) and that will satisfy the requirement.  They can no longer ban you by refusing to sign.
One additional fact to note is that the notification requirement will apply not only to the grantor of the trust but to all 'responsible persons' of the trust.
Who do they consider a 'responsible person'?
The rule defines a 'responsible person' as "those persons who have the power and authority to direct the management and policies of the trust or legal entity to receive, possess, ship, transport, deliver, transfer, or otherwise dispose of a firearm for, or on behalf of, the trust or entity."
In the case of the trusts I provide to my clients, those would be the joint trustees listed on Schedule B.
Will trusts also be subject to the fingerprinting and photograph requirements?
Yes.  But even here there is a beneficial change between 41P and 41F (due largely I suspect to the ATF's own staffing limitations rather than to a consideration for applicants).
When a trust applicant submits their first application after the rule takes effect, all 'responsible persons' will have to submit fingerprints and photographs.  However, going forward from there, if your trust has had a Form 1 or Form 4 approved within the previous 24 months and there has been no change in the trust or the list of 'responsible persons' then you are not required to resubmit fingerprints or photographs.
Will this affect my existing tax stamps?
No.  The rule will only apply to applications made after the rule goes into effect.  Existing tax stamps and applications that go pending before the rule goes into effect will not be impacted.
Where do we go from here?
I wanted to get an article out this morning summarizing 41F and answering the most immediate questions.  I will follow up over the next few hours and days with additional updates about such topics as:
Will trusts still be the preferred vehicle for NFA ownership? (Spoiler Alert … the answer is 'Yes')
What changes should I make to my trust before July?
What does this mean for eForms?
After July what will I need to do to add or remove joint trustees
If you think of other questions you would like answered, please use the contact form on the right hand side of the page to contact me.