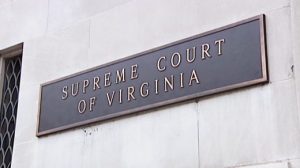 In a ruling issued late today, the Virginia Supreme Court has struck down the Governor's blanket restoration of the political rights of over 206,000 convicted felons who had completed their sentences and been released from supervised probation or parole.
The 63 page ruling, included below, will require the Virginia Department of Elections to "cancel the registration of all felons who have been invalidly registered."
While I have not yet had time to review the ruling, I can immediately imagine a number of other questions that need to be asked:
I have had at least one client, whose political rights were purportedly restored based upon this order, become a notary public.  What is the status of the documents that she has notarized?
If any person whose political rights were purportedly restored based upon this order has served upon a jury, will that cast a shadow upon any resulting verdicts?
I will refrain from asking any further questions until I have had a chance to read the entire opinion but the key question for my clients is this:
"How does this impact my ability to petition for the restoration of my gun rights?"
Here is the short answer … if your political rights were restored as part of the April 22nd blanket restoration then you will have to re-apply for individual restoration and wait for that individualized executive order to be issued before we can submit your petition to the courts.
The good news (assuming that there is nothing in the opinion that would prevent such action) is that Governor McAuliffe has indicated that if he were to receive this ruling that his office was prepared to quickly issue individualized restoration orders for everyone covered by his blanket order.
I will be following up as I get a chance to read the order and the Governor has a chance to respond to the ruling.
The Entire Ruling