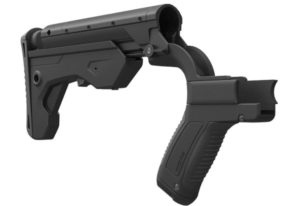 I receive calls almost every day from clients asking for an update on the status of the bump fire stock ban.
The ban is currently scheduled to go into effect (with items surrendered or destroyed) on March 26, 2019 unless one of the four legal challenges succeeds in postponing or overturning the regulatory 'redefinition' of bump fire stocks as machineguns.
For those who are not familiar with the history and ongoing status of the attempted ban, the following is a simplified timeline of the steps which lead us here.
07 Jun
ATF Approves The First Bump Fire Stock and Declares is is NOT Regulated Under the NFA
16 Apr
ATF Notifies Congress That Bump Fire Stocks Are NOT Machineguns
20 Feb
Trump Instructs the ATF to Act
23 Mar
DOJ Announces Plan to Regulate
29 Mar
ATF Issues Notice of Proposed Rulemaking
18 Dec
Final Regulation Signed By Acting AG
26 Dec
Firearms Policy Coalition Files Suit Seeking an Injunction
27 Dec
GOA and VCDL File Suit Seeking an Injunction
16 Jan
Lawyer Adam Riley Files a Class-Action Lawsuit Over the Taking of Property Without Compensation
17 Jan
Clark Aposhian, Chairman of the Utah Shooting Sports Council, Files a Separate Lawsuit
25 Feb
Trial Judge Denies Preliminary Injunction in FPC Case. The Ruling Has Been Appealed to the Court of Appeals for the District of Columbia Circuit
01 Mar
A three-judge panel of the D.C. Circuit granted FPC's and FPF's joint motion to expedite the appeal
06 Mar
Hearing Scheduled in the GOA / VCDL Case Regarding a Preliminary Injunction
21 Mar
10th Circuit Issues Temporary Ban Against Enforcement of Bump Fire Ban - BUT ONLY AGAINST CLARK APOSHIAN
22 Mar
Arguments to be heard in FPC v. Whitaker and Guedes v. BATFE by the D.C. Court of Appeals
25 Mar
DC Court of Appeals issued a stay in the FPC case but only as it applies to the named plaintiffs including any current bona fide members of the named membership associations (Firearms Policy Foundation, Madison Society Foundation, Florida Carry)
26 Mar
Rule Scheduled to go Into Effect (Items Must be Surrendered or Destroyed) Unless an Injunction is Issued
26 Mar
Chief Justice Roberts has declined an emergency request to have the Supreme Court review the issue
26 Mar
Justice Sotomayor is still considering a second request to have the Supreme Court intervene
28 Mar
Justice Sotomayor has denied the second request to have the Supreme Court intervene
01 Apr
The D.C. Circuit has ruled 2-1 against the Guedes et al. appellants, with a strong dissent by Judge Henderson.
Until we get a final answer, this post will contain updates as they occur.  However, it isn't looking good for law-abiding gun owners.
In the meantime, Firearms Policy Foundation attorney Joshua Prince has published a guide to surrendering your bump stock to the ATF under protest.
The ATF has also 'helpfully' provided a Bump Fire Destruction Guide.