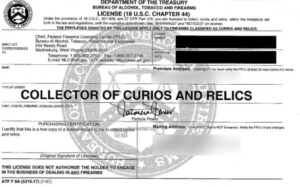 Since Virginia's so-called 'universal background check' law went into effect on July 1, 2020, there have been a number of questions about its applicability to different circumstances.
I have previously written about whether one could still gift a firearm under Virginia's new universal background check law.
Today I will address the issue of whether Virginia's new universal background check law negates any of the benefits of having a Curio and Relic Federal Firearms License (C&R).
For those unfamiliar with a C&R license, it is a federal firearms license which allows the holder to directly purchase those firearms that are classified as 'curios or relics' without undergoing an individual background check for each item.
So what kinds of firearms are we talking about?  To quote the ATF website linked above:
To be recognized as C&R items, firearms must fall within one of the following categories:

Firearms which were manufactured at least 50 years prior to the current date, but not including replicas of such firearms;
Firearms which are certified by the curator of a municipal, state, or federal museum which exhibits firearms to be curios or relics of museum interest; and
Any other firearms which derive a substantial part of their monetary value from the fact that they are novel, rare, bizarre, or because of their association with some historical figure, period, or event.
Earlier today, I received an email from a client who wanted to sell a C&R firearm to a C&R license holder (both were Virginia residents).  He wanted to know whether he could do so without conducting the background check since the buyer was a license holder.
Let's look at the language of the new law (emphasis added):
§ 18.2-308.2:5. Criminal history record information check required to sell firearm; penalty.

A. No person shall sell a firearm for money, goods, services or anything else of value unless he has obtained verification from a licensed dealer in firearms that information on the prospective purchaser has been submitted for a criminal history record information check as set out in § 18.2-308.2:2 and that a determination has been received from the Department of State Police that the prospective purchaser is not prohibited under state or federal law from possessing a firearm or such sale is specifically exempted by state or federal law. The Department of State Police shall provide a means by which sellers may obtain from designated licensed dealers the approval or denial of firearm transfer requests, based on criminal history record information checks. The processes established shall conform to the provisions of § 18.2-308.2:2, and the definitions and provisions of § 18.2-308.2:2 regarding criminal history record information checks shall apply to this section mutatis mutandis.The designated dealer shall collect and disseminate the fees prescribed in § 18.2-308.2:2 as required by that section. The dealer may charge and retain an additional fee not to exceed $15 for obtaining a criminal history record information check on behalf of a seller.
While the initial language seems to indicate that it reaches all 'persons' selling firearms, the highlighted section incorporates the definitions and provisions of § 18.2-308.2:2 which provides in relevant part that:
H. The provisions of this section shall not apply to (i) transactions between persons who are licensed as firearms importers or collectors, manufacturers or dealers pursuant to 18 U.S.C. § 921 et seq.; (ii) purchases by or sales to any law-enforcement officer or agent of the United States, the Commonwealth or any local government, or any campus police officer appointed under Article 3 (§ 23.1-809 et seq.) of Chapter 8 of Title 23.1; or (iii) antique firearms or curios or relics.
This subsection clearly exempts those licensed as Curio and Relic collectors from the provisions of § 18.2-208.2:2, which is statutorily incorporated as equally applicable to the requirements of § 18.2-308.2:5.
Therefore, a Virginia resident may sell a C&R firearm to a C&R license holder without conducting the background check that would otherwise be required in a private sale.
---
Disclaimer:  This information is presented for educational purposes only and does not give rise to an attorney-client relationship. Additionally, I am licensed to practice law in the Commonwealth of Virginia and this answer may not be appropriate for other states. If you have further questions about this topic, please feel free to contact me for a free consultation.