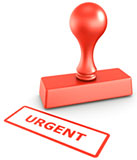 Earlier this week I received a call from a client who had a last-minute opportunity to attend an out-of-state hunting event.  While he was excited about the opportunity, he had a problem.  The gun he wanted to take was an SBR and he did not have a Form 20 for the location where the hunt was taking place.
His question was "Is it possible to expedite my Form 20?"
I gave him the quintessential legal answer … "Maybe."
After I spoke with the client, I called my point-of-contact at the NFA Branch and asked what application method would give my client the best chance for a quick approval.  While he would make no guarantees, he verified that the following process would offer the best chance:
Have a

good

reason to need the Form 20 expedited.  This is not a process to use for all your Form 20s.
Call first and let your examiner know that the expedited request is being faxed.
Fax the completed Form 20 to (304) 616-4501.
Include a cover sheet requesting an 'Expedited Review'
Include full contact information on the cover sheet including a return fax number.
For those of you who have more time, remember that you can get Form 20s approved for up to a year at a time.  Plan early for scheduled hunting trips and shooting events.