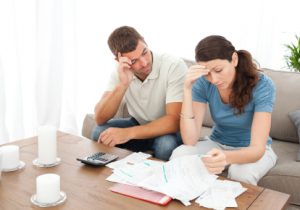 We have finally arrived at the final day to submit Form 1 and Form 4 applications and have them processed under the pre-41F rules.
As anticipated and feared, the eForms system has been flaky and unavailable for the last several days.  This morning it is completely unresponsive.
I have been getting literally dozens of calls from clients who want to file last minute Form 1's and I am telling them that it is time to go paper.  Since most of us have been spoiled by the eForms system, here is a refresher on doing the paper Form 1 process.
** This guide was intended for use on July 12th only and is now superseded ** 
** Click here for a complete guide to filing the new Form 1 **
Important Note: We are going to use the old version of the Form 1 (a fillable version is available here).  This version will be made obsolete tomorrow since the ATF will only accept the new Forms for any applications made July 13th and later but for today's purposes, this is what we need.
Let's start with the top of page 1.  The following image is a loop of how to fill out these fields.  
*** Click on the image for a larger and clearer version.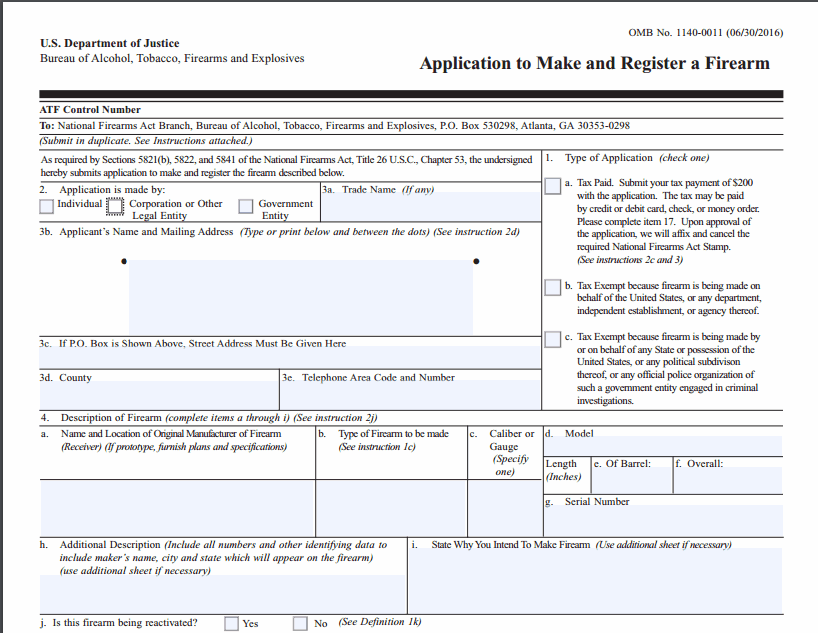 A few comments about this section of the Form 1.
 We leave Trade Name blank.

The address in 3b is your Mailing Address.  If your physical address is different then it goes into 3c.  Otherwise, we leave 3c blank.

Virginia is one of the few states where some independent cities are outside of counties. If you live in an independent city (like Alexandria) instead of the county then put your city in 3d (e.g.  "Alexandria City").   Otherwise you simply put your county name.

When entering the Manufacturer Name and Location, Model, and Serial Number, it is critical that you enter them exactly as they are engraved on the lower!  The ATF has been rejecting a large number of applications recently based upon bad info in these fields.
Do NOT put 'Multi' as the caliber.  While you may have multiple uppers for your registered lower, you need to declare a specific primary configuration in this application and you need to retain the ability to return to this configuration.
If you have a foreign manufactured firearm, you put the name and location of the original manufacturer in 4a, not the importer (which might also be engraved on the lower).
If you are manufacturing your own suppressor, or your own SBR based on an un-serialized 80% lower, then your trust is the manufacturer and you should put the trust name, city, and state in 4a.  In this scenario, you will also need to designate the model name and the serial number.
The options for 4b are:  silencer, machinegun, short-barreled rifle, short-barreled shotgun, or destructive device.  There have been unconfirmed reports of ATF rejecting applications for putting 'Suppressor' instead of 'Silencer' in this field.
The bottom of page 1 has only a few fields we need to fill in.
*** Click on the image for a larger and clearer version.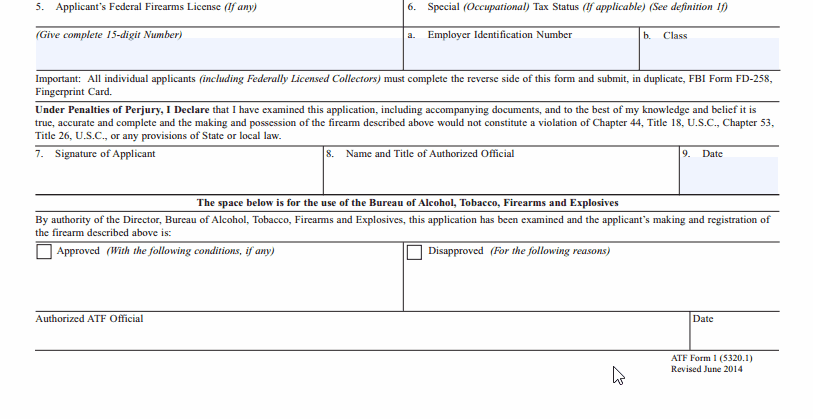 The only comment I have here is that you should not forget to sign in box 7.
The top of page 2 is the law enforcement certification which does not apply to trust applicants but you will need to answer the questions in box 11 as they apply to you, the person completing the form.  In the example below, I am completing them as I personally would answer them but you will need to answer them truthfully as they apply to you!
*** Click on the image for a larger and clearer version.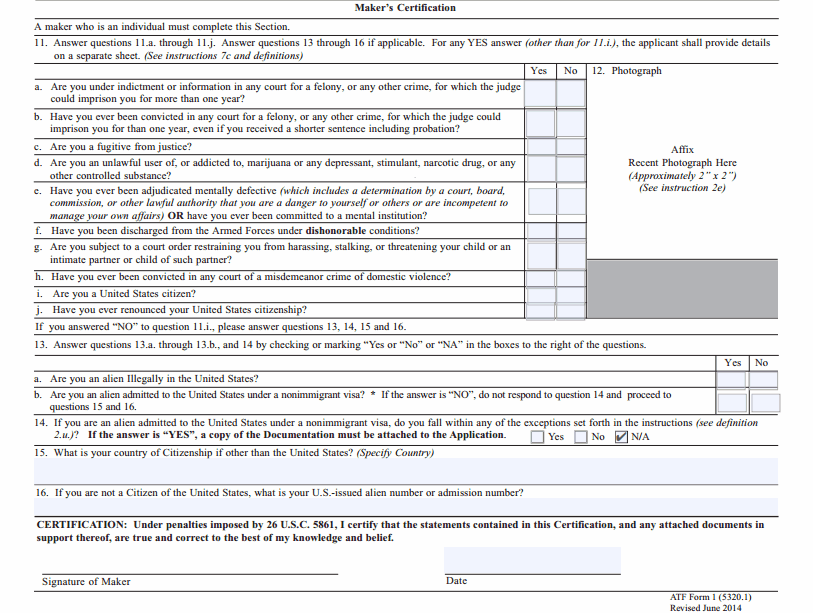 There are two notes here.
If you are a resident alien here on a non-immigrant visa then you will also need to complete questions 13 through 16.
Until tomorrow, photographs are not required for trust applicants and you may skip box 12.
Finally we come to the last page which is really only concerned with payment.  I generally recommend paying via personal check but there is no wrong answer here as long as you make sure to submit a valid payment.
*** Click on the image for a larger and clearer version.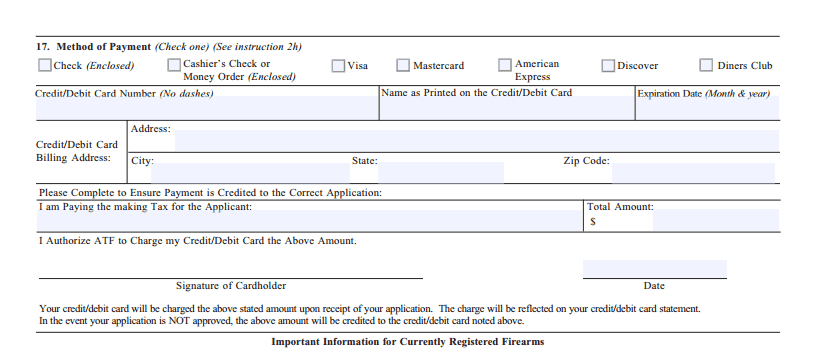 If you are paying via credit card then do not forget to sign at the bottom of this section.
That's it as far as filling out the form is concerned.  But we are not done yet.  We need to get this form printed properly and put together a complete packet to mail to the ATF.  Let's start with how to print out and sign the filled-in form.
You must print the form front and back (double-sided). If you print it out front side only, (which would be the default for 99% of all printers) then your otherwise complete application will be rejected.
You must print and sign 2 copies for each item you are building.
The ATF requires all signatures to be in either blue or black ink.
When signing, sign your name as you normally would and then add ", as Trustee" at the end.
Now we need to prepare the packet to mail to the ATF.  Note that If you are building more than one NFA item, you will need a separate packet for each item.
This packet should include:
2 copies of the completed Form 1 printed front and back as noted above with original signatures in blue or black ink on both copies
2 copies of your notarized trust instrument (including all schedules)
Payment for the amount of the tax ($200) payable to BATFE
The entire packet should be mailed to:
National Firearms Act Branch
BATFE
P.O. Box 530298
Atlanta, GA 30353-0298
In order to be processed under the pre-41F rules, applications must be postmarked with today's date.  You should make sure to take the packet to the counter at your local post office to insure it is postmarked.
If this guide leaves any questions unanswered, I will be taking calls all day in the order they are received.