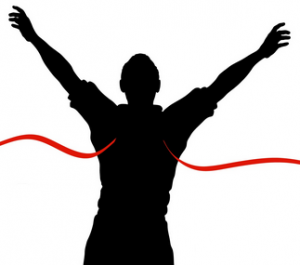 eForm 1 is back!  At the beginning of October, 2018 the ATF announced that Form 1's were once again available for submission via eForms.
Turnaround Time
Initial applicants astonishingly reported approvals in as little as 15 days!  And while that number has increased as more and more people take advantage of the system, we are still seeing turnaround times between 30 and 60 days.  Most importantly, it still represents a significant improvement over the year-plus approval times we are now seeing with the paper process.
eForm 1 Instructions
The screenshot below shows the ATF's instructions for the new eForm 1 process from the eForms site.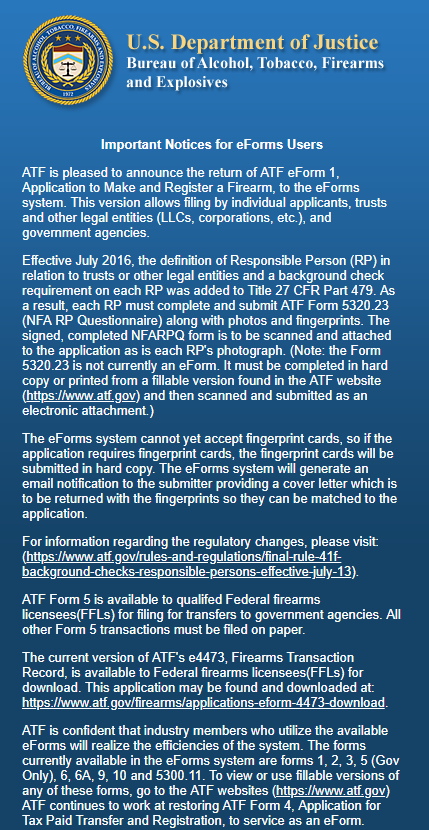 In summary, they have devised a process which allows the Responsible Person Questionnaire form(s) (Form 23) to be uploaded, along with any design documents for your build and your notarized trust while completing the eForm 1.  Once the eForm 1 is successfully submitted, the system generates a copy of the Form 1 and a Fingerprint Cover Letter and emails both documents to you.
You then mail the fingerprint cards of each responsible person to the ATF with the Cover Letter.  You then print the CLEO copy of the Form 1 and mail it, with the CLEO copy of your Form 23, to your local CLEO.  I suggest using Priority Mail (or some other form of mailing which provides proof of delivery).  Any additional responsible persons would mail just the CLEO copy of their Form 23, to their local CLEO.
In the past, I have attempted to assist those clients whose trust I drafted in filing their eForm 1.  The sheer volume has made it impossible for me to continue offering that as a free service since it can take over half-an-hour per application to receive the scanned documents, review them for any errors, compress them to comply with ATF requirements, and then navigate the eForms system.
Therefore, I offer this service for a flat-fee of $50 to cover my time.
Prior to calling me to schedule a time, you will need to do the following:
Email me a Scanned Copy of All 17 Pages of Your Notarized Trust
Have Each Responsible Person on the Trust Complete, Print, and Sign a Form 23
Email me a Scanned Copy of the Completed and Signed Form 23(s)
Email me a JPG copy of each responsible person's passport-style photo
If you are building a suppressor, scan and send me a design layout (see below for details)
Call me to schedule a time to do the eForm 1 together
The following instructions go into greater detail about each of these steps.
Email me a Scanned Copy of All 17 Pages of Your Notarized Trust
This will include the 13 pages of the trust, which ends with the notarized signature on page 13, and each of the four schedules that you have signed and dated.
Email me a Scanned Copy of Any Trust Amendments

You may or may not have any amendments.  If I have created any for you then send me a notarized copy of each.
Have Each Responsible Person on the Trust Complete a Form 23
A copy of the new 'responsible person' form 5320.23 (Form 23) will need to be completed by each 'responsible person' of the trust (you and anyone on Schedule B of your trust).
Important Note:  Your fellow 'responsible persons' will find it much easier to complete this form if they have a copy of your completed questionnaire in front of them so they do not make any mistakes regarding the make, model, serial, etc. of the NFA item.  
The Form 23 may be downloaded from the ATF website.  The form itself is well designed with fillable fields which auto-transfer the data to two additional copies (however, this feature only works if you download the form and open it in Adobe Acrobat or Acrobat Reader.  It will NOT work inside the browser.)
You, and the Joint Trustees listed on Schedule B of your trust, should download the form and each one complete it according to the following instructions:
Form 23 – Page 1
In Box 1 you should check the box for Form 1.
In Box 2 you should put the name of your trust (exactly as it appears on the header of the trust document) and the mailing address for the location where the item will initially be stored.
In Box 3a you should put your full legal name and your home address.
In Box 3b you should put your telephone number.
In Box 3c you should put your email address.
If you have changed your name at any time during your life, including being married, then Box 3d should contain all other names you have ever used.
In Box 3e you will affix a 2×2 passport-quality photo taken within the last year (on the ATF copy of the form only).  As I noted here, many NFA dealers offer in-store photography options so you should check with your local gun store.  Failing that, Walgreens is a common provider of this service in many towns.
In Box 4a, you should put either Silencer, Machinegun, Short-Barreled Rifle, Short-Barreled Shotgun, AOW, or Destructive Device. There have been unconfirmed reports of the ATF rejecting applications for putting 'Suppressor' instead of 'Silencer' in this field.
In Box 4b you should put the manufacturer's name and the location in which it was manufactured. It is critical that you enter them exactly as they are engraved on the lower! However, if you have a foreign manufactured firearm, you must also be careful to identify the name and location of the original manufacturer and not the importer (which might also be engraved on the lower). If you are manufacturing your own suppressor, or your own SBR based on an un-serialized 80% lower, then your trust is the manufacturer and you should put the trust name, city, and state here..
In Box 4c you should put the model number of the item.  Once again, it is critical that you enter this exactly as it is engraved on the lower!  If you are manufacturing your own suppressor, or your own SBR based on an 80% lower, then you will need to assign a model name.
In Box 4d you should put the initial caliber of the item being built. Do not put 'Multi' as the caliber even if that is what is engraved on the lower. While you may have multiple uppers for your registered lower, you need to declare a specific primary configuration in this application and you need to retain the ability to return to this configuration. This value should contain the number and the unit of measure such as .30 Cal, 9mm, or 12 Gauge.
In Box 4e you should the serial number of the item. At the risk of repeating myself, it is critical that you enter the serial number

exactly as it is engraved on the lower including any alpha-numeric characters!

If you are manufacturing your own suppressor, or your own SBR based on an 80% lower, then you will need to assign a serial number. Many people simply start with 001 and proceed in series as they build additional items.
Box 5 should contain your Social Security Number.  This is an optional field but including it should dramatically decrease your processing time.
Box 5 should also contain your date of birth.
Box 6a should contain your ethnicity
Box 6b should contain your race
Box 7 should contain the information regarding the CLEO whose jurisdiction includes the home address in Box 3a of this form.
Form 23 – Page 2
You will need to answer the questions in Boxes 8, 9, 10, and 11 as they apply to you, the person completing the form.  In the example below, I am completing them as I personally would answer them but you will need to answer them truthfully as they apply to you!
Note: If you have been convicted of a felony but have since had your gun rights restored then the instructions state you should answer question 8b as 'No'.  However, I strongly advise you to attach a copy of your restoration paperwork to the Form 23 when submitting it to the ATF.
You will sign the certification following Box 11.  (More about this in the signing section below)
You should enter the date in the field to the right of the signature block.
A Completed Sample of Form 23
The following sample form illustrates what a completed form should look like.
Printing The Completed Form 23
Once you have completed the Form 23, you will need to print it.  It will print 2 copies.  You should now affix your photo to the ATF copy of the Form 23 only. (DO NOT USE STAPLES)
Signing the Completed Form 23
The only place you will need to sign the Form 23 is following the certification statement below Box 11.  You do NOT add "as trustee" to your signature on this form.
Do not forget to sign both copies of the Form 23.
Important:  The ATF requires all signatures to be in either blue or black ink.
Finally, you should scan the completed and signed Form 23 and email it to me.
Providing design details if you are building a suppressor
In March of 2022, the ATF adopted a strict definition of what constitutes an illegal suppressor that effectively ends the ability to build a suppressor on a Form 1 using any kind of kit or pre-made internal components.
Those that are actually machining their own suppressor will now be required to provide additional information with their Form 1 applications.  The ATF is requesting the following:
Pictures of the parts that you will use to make the suppressor (the pictures should be clear and allow the identification of the parts photographed),
A description of the processes you will use to assemble or fabricate the suppressor
I suggest that you provide a design document.  I have a sample suppressor design document that you may use or expand upon.
Using this document as a template:
1) Fill in the measurements for OAL, Tube Diameter, and Bore
2) Show the number of baffles you intend to include and the spacing for each chamber
3) Describe the processes you will use to fabricate the suppressor
Once complete, scan in and email me the completed design document.