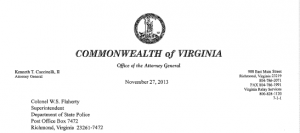 ** There is an update to this article **
In December of last year, I received several calls from NFA dealers who had been told by ATF employees that there was a change upcoming regarding the use of trusts to own NFA items in Virginia.
Following on the heels of the disastrous 41p proposed rulemaking by the ATF, this news had these dealers understandably concerned. They were fearful that the incoming Governor of Virginia might be planning some sort of administrative attack on NFA ownership in the Commonwealth.
The actual issue as it turns out only involves the use of a trust to register machine guns.
Let's start with a little background.
While allowing ownership of all NFA items save one (assuming compliance with all federal laws), the Commonwealth of Virginia additionally requires that machine guns (and only machine guns) be registered with the state.
This registration is governed by the Uniform Machine Gun Act as codified at § 18.2-295 et seq.  of the code of Virginia.  However, in this act at § 18.2-299, the definition of a 'person' who may register a machine gun in overly narrow.  The statute states that a 'Person' "applies to and includes firm, partnership, association or corporation."
This definition is substantially narrower than the general definition of 'Person' in the Code of Virginia which is codified at § 1-230 and defines a 'Person' as "any individual, corporation, partnership, association, cooperative, limited liability company, trust, joint venture, government, political subdivision, or any other legal or commercial entity and any successor, representative, agent, agency, or instrumentality thereof."
Based upon this difference, sometime last year, Colonel Flaherty, Superintendent of the Virginia State Police wrote to then-Attorney General Cuccinelli and posed the question of "whether a trust may register a machine gun in Virginia under the Uniform Machine Gun Act."
In an opinion dated November 27th, 2013, Attorney General Cuccinelli opined that "a trust may not register a machine gun pursuant to the Uniform Machine Gun Act as enacted by the Virginia General Assembly."
His reasoning was that "When the legislature omits language from one statute that it has included in another, courts may not construe the former statute to include that language, as doing so would ignore 'an unambiguous manifestation of a contrary intention' of the legislature."
In other words, the term 'Person' is already defined in the Code of Virginia and includes trusts.  In specifically adding a section to the Uniform Machine Gun Act defining the term more narrowly, one has to assume the omission was intentional on the part of the legislature.
So … where does this leave us?  The 'change' that the dealers were told was upcoming is this … Machine guns may no longer be registered to trusts in Virginia.
We are still awaiting clarification of what will happen to those machine guns that are already registered to trusts.  In addition, I am awaiting clarification from the ATF on how applicants who submitted Form 4 or Form 5 transfers which are still in process should proceed.
In the meantime, Virginia Delegate Dave Larock has introduced HB 1266 to correct this issue.  This bill is currently before the House Militia, Police, and Public Safety Committee.
Given these changes, what should you as an NFA collector do?
1)  If you currently own a machine gun in a trust you should immediately contact the attorney who formed your NFA trust and work with him or her to protect your assets.
2) If you support Delegate LaRock's bill to add trusts to the list of entities which may register machine guns in the Commonwealth then might I suggest you use the 'Write Your Legislators' tool provided by VCDL to email the House Militia, Police, and Public Safety Committee.  The tool will send your message to every single member of the committee.
** There is an update to this article **