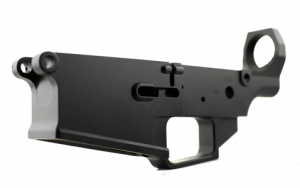 I was recently contacted by a gun owner who attempted to purchase a stripped lower from an out-of-state dealer and the dealer refused the sale.  The dealer had completely confused the issue by telling him that stripped lowers must be sold as 'pistols'.
The dealer was 100% correct that non-residents may not purchase frames or receivers from a licensed dealer.  However, their explanation as to why was just plain wrong.
Let's see if we can untangle the issue …
 18 U.S.C § 922(b)(3) makes it a crime for a dealer to sell any firearm, other than a rifle or shotgun, to a non-resident.
Frames and receivers are neither handguns nor long guns.
Therefore, frames and receivers do not fall withing the exception for rifles and shotguns and cannot be sold to non-residents.
The ATF covered this in the following 2009 Open Letter to FFLs.
The part of the answer from the dealer that was wrong is his assertion that frames or receivers must be sold as 'pistols'.  This is not correct at all.  The 4473 recognizes this distinction in box 16 and the associated instructions for this field.
Receivers should always be transferred on a 4473 as an 'other'.  This gives you maximum flexibility as to what may be built from the receiver.