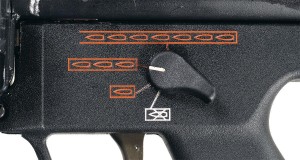 Following last week's series of updates concerning whether or not a machine gun may be registered to a trust in Virginia, a client asked me a question that I did not have an immediate answer for.
"Since the Virginia State Police's policy is to register any machine gun owned by a trust to one of the trustees, what happens when that particular trustee dies, becomes incapacitated, or becomes disqualified?"
The client's concern is valid.  Under the terms of Virginia's Uniform Machine Gun Act, any machine gun possessed in violation of the law is subject to seizure and confiscation.  That is a severe penalty when you are talking about an item valued in the tens of thousands of dollars.
In other words … this question needed to be answered.
The good news is that I now know who to call at the VSP when I have legal questions about their interpretation and implementation of the machine gun registration process.
For the second time in as many weeks, I called Virginia State Police Legal Services Officer Tom Lambert.
His simple, reassuring answer made so much sense that I feel the need to publicly state that I am truly proud of the Virginia State Police.
The answer?  Whenever the trustee whose name appears on an SP-115 form for a machine gun owned by a trust dies, becomes incapacitated, or becomes disqualified, one of the other trustees of the trust simply needs to send in a new SP-115 containing their information so that the VSP's registration records may be updated.  This just needs to be done in a timely manner.