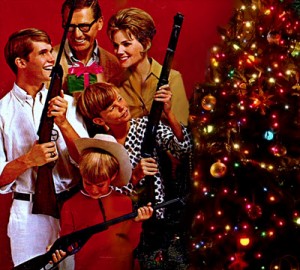 With the holidays fast approaching, I suppose it was only a matter of time before I was asked this question.  After all, a quality firearm, treated with respect and care, is an heirloom that can last for generations.
But can you even give it as a gift to someone who lives in another state?
The short answer is "Yes you can."  However, that doesn't really answer the entire question.
What you should really be asking is "How do I legally ship the firearm to the lucky recipient in another state?"
The reason you need to ask this question is because federal law generally prohibits such interstate transfers unless they go through an FFL.  § 18.2-922(a)(3) says that:
(a) It shall be unlawful—

(3) for any person, other than a licensed importer, licensed manufacturer, licensed dealer, or licensed collector to transport into or receive in the State where he resides (or if the person is a corporation or other business entity, the State where it maintains a place of business) any firearm purchased or otherwise obtained by such person outside that State …
There are certain exceptions such as those for face-to-face transfers of rifles and shotguns as well as for firearms that are temporarily loaned for sporting purposes.  But generally, interstate transfers between non-FFL holders is prohibited.
So … how does one go about getting that special gift to Uncle Fred?
Step 1
Ask Uncle Fred to find a local gun store which charges a reasonable fee for transfers.
Step 2
Have the gun store send you a copy of their FFL.
Step 3
Ship the firearm to the FFL via common carrier (note that USPS will NOT ship handguns).
Step 4
Uncle Fred goes to the FFL and picks up the firearm while complying with both federal background check laws as well as any state or local additional requirements.
Step 5
Apologize to Uncle Fred for it no longer being a surprise but remind him how cool a nephew you are for getting him a firearm as a gift.
Disclaimer:  This information is presented for educational purposes only and does not give rise to an attorney-client relationship. Additionally, I am licensed to practice law in the Commonwealth of Virginia and this answer may not be appropriate for other states.